You don't know beans...
until you know A Hill of Beans.
Although this is a website about chocolate and not coffee, I would like to introduce my favorite coffee that is tinged with just a hint of chocolate, because this is the coffee that I use in all of the coffee-based chocolate drinks on this site.
My favorite coffee is from a company called "A Hill of Beans Coffee" and it's some of the most delicious coffee I've ever tasted. 
A Hill of Beans offers flavored coffees, straight roasts, blends, premium and seasonal coffees, both in regular and decaf, and whole beans or ground.  My personal favorite and the one I drink every day is Heavenly Delight, which blends hints of chocolate, caramel, vanilla and the slightest whisper of coconut into the coffee.  One would think that it would be a "busy" coffee with all those flavors, but it's not.  It still tastes like coffee.  The nice thing is that it requires less sweetener, which is always a good thing.  The aroma teases my nose as I raise the cup to my lips, and the silken flavor has made this former coffee purist swear off of plain coffee forever.
There are plenty more flavored coffees that accompany Heavenly Delight including Cinnamon Almond Macaroon, Hazelnut and Toasted Coconut Cream, to name a few. 
But they offer plenty of straight roasts too, including Brazil Mogiana, Colombia Supremo Dark Roast Fair Trade Organic, Ethiopia Yirgacheffe.

The names are intriguing - Dakota Territory, Serengeti Blend, A Cup of Magic, and Jingle Bell Java (that last being a seasonal blend).  And many more.
If there is leftover coffee in your house, a good way to use it is to add flavored syrups.  I've lately started adding a tablespoon of sugar-free vanilla, eggnog or hazelnut syrup in my Heavenly Delight coffee with a dash of half-and-half for the creamer (no additional sweetener required), and I almost think I'm drinking a warm milkshake.  Since it's decaf coffee, I can drink it as late as I want with no worries about interrupted sleep.
This is what I call "plain dressed-up" coffee.

Or, if you prefer something with a bit more sass and glamor, add a tablespoon of coffee or Irish cream liqueur and top it with whipped cream.  Regardless of what you add and how you top it, you'll enjoy a nightcap sure to melt you into sweet dreams.
Give A Hill of Beans a try.  Their coffee is splendid, and their customer service is superb.
---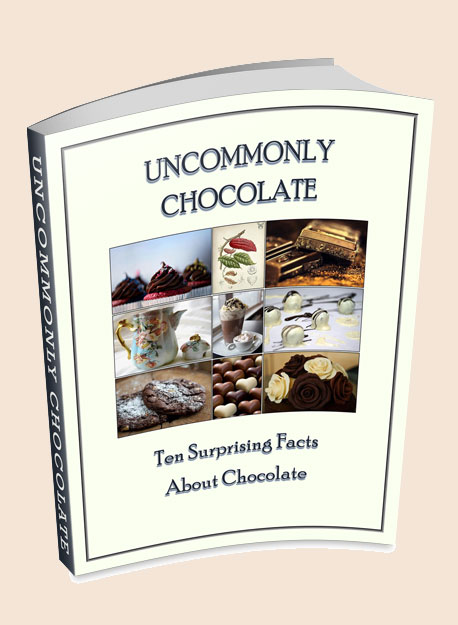 Need a little more chocolate in your life?


Sign up for monthly "Chocolate Chips" and receive this e-booklet FREE
"Ten Surprising Facts About Chocolate"



Sign up below and you'll receive a link where you can download your e-booklet immediately.



---