Sugar-Free Chocolate 
That Actually TASTES Good?
Yes, believe it or not, there is a sugar-free chocolate that not only tastes good, it's DELICIOUS.  It's low carb (only 1 g net carbs per serving), antioxidant-rich, teeth-friendly and good for your waistline.  And the best part is, it's sweetened naturally and not with sugar alcohols or artificial sweeteners. 
A brief word about sugar alcohols

Sugar alcohols are hybrids of sugar molecules and alcohol molecules.  They don't, however, contain ethanol, the compound that gets you drunk.  Therefore, sugar alcohols are safe for alcoholics.
Sugar alcohols come from plant products such as fruits and berries.  The carbohydrates in these plant products are altered through a chemical process.  The end result is a product that looks like white crystals (just like sugar) but has fewer calories.  This is why sugar alcohols are a popular sweetener in "sugar-free" foods.
The trouble with sugar alcohols is two-fold: first, they DO have carbohydrates.  Second, they can cause considerable digestive distress.  Of the many types of sugar alcohols, there are four main types:
Xylitol, the most common and well-researched.  It has a distinct mint flavor (think: mints and toothpaste).  It does exhibit some digestive symptoms when consumed in large amounts.
Erythritol, which is considered to have an excellent taste. (Truvia)
Sorbitol, which is 60% as sweet as sugar with about 60% of the calories.  This is a common sweetener in sugar-free foods and drinks, including jelly spreads and soft candy.  It may cause significant digestive distress.
Maltitol, which is 90% as sweet as sugar with almost half the calories.  It is also used in sugar-free foods but can cause spikes in blood sugar.
It is clear, then, that sugar-free chocolates (and other foods), while not containing actual sugar, can still be high in carbs and not safe for diabetics.
While I myself am not diabetic, I have on occasion wanted to try sugar-free chocolates and other candies.  My seasonal weakness is chocolate-covered marshmallow hearts of a popular, drugstore brand.  One year I decided to go the sugar-free route and ate one that used Sorbitol as the sweetener.  Let's just say the results were… disastrous. 
Since then, I've stayed away from sugar-free chocolates…until now.
This sugar-free chocolate is AMAZING.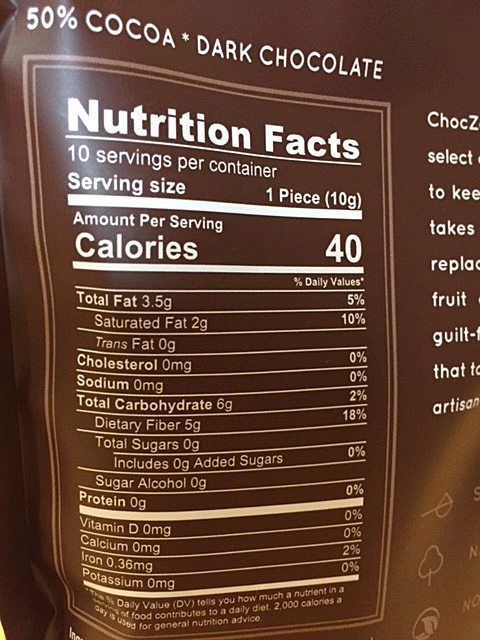 40 calories and 5 g of fiber - a health food indeed.
The first thing I noticed in the description was that it is sweetened with monk fruit extract and not sugar alcohols.  Monk fruit is a small green gourd that is grown in Southeast Asia.  Buddhist monks in the 13th century are the first to have used it, hence it's name.  The beauty of monk fruit is that the extract contains zero calories, zero carbohydrates, zero sodium, and zero fat.  It's a diabetic's dream. 
I tried the kind that contained 50% cocoa from Fair-Trade premium cocoa beans.  (There are those that contain 70%, 85% and 92% cocoa too.)  I was hesitant and wondered how good could a chocolate be without sugar (having already experienced the negative effects of "sugar-free" chocolate).  I was in for a big surprise.
ChocZero has a very pleasant taste.  It IS chocolate, after all, with a very slight fruity aftertaste.  And I mean VERY slight.  If you didn't know it was sweetened with a fruit extract, you would think that it's just one of the flavor notes of the chocolate itself.
It has a nice snap to it, and it melts well on the tongue.  Oh, and it only has 40 calories per serving, much less than the standard dark chocolate bar which can contain as much as 250 calories per serving.  And it has a whopping 5g of dietary fiber per serving – 18% of the daily recommended requirement.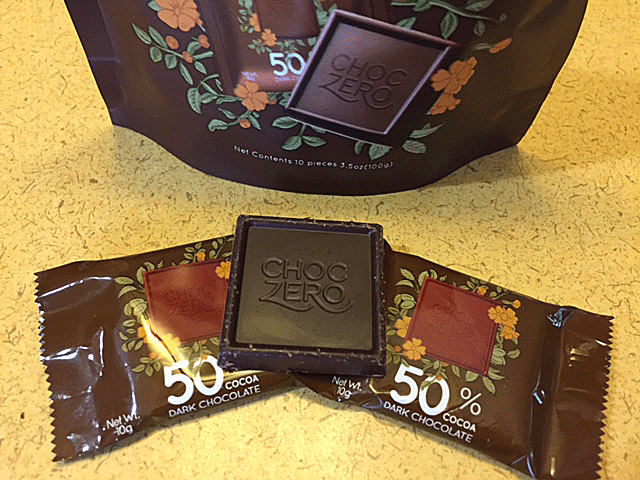 This is a chocolate that you can feel good about, both eating it and after.  No "eater's remorse" with this one.
I found ChocZero on Amazon (here) where you can find all of the different varieties. 
If you're looking for a sugar-free chocolate that will not upset your digestive system, cause blood sugar spikes or expand your waistline, ChocZero is a good one to try.
---
You might also like...
...Chocolate for Health & Beauty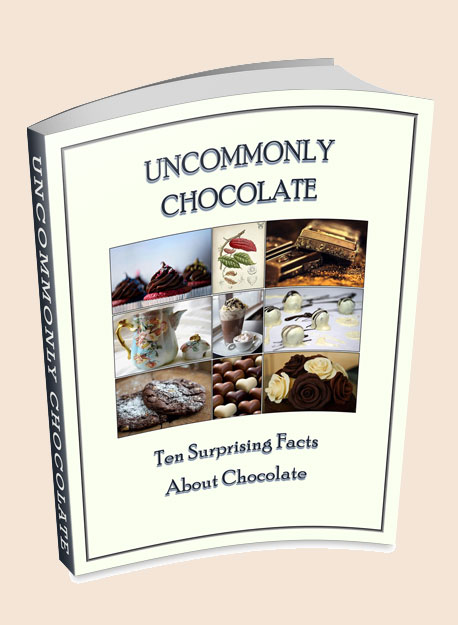 Need a little more chocolate in your life?


Sign up for monthly "Chocolate Chips" and receive this e-booklet FREE
"Ten Surprising Facts About Chocolate"



Sign up below and you'll receive a link where you can download your e-booklet immediately.



---