Bourbon Chocolate Pecan Pie:


a new twist to an old favorite
The holidays conjure up memories for many people - memories of family, friends, decorations, surroundings, and more.  All five senses go into high gear around the holidays, and by "holidays," I mean the period between Halloween and New Year's Day.  The sights, sounds, smells, tastes and tactile feelings get a complete workout during this time, and one of the strongest senses put into action is that of taste. 
Food is such an important part of holidays and family traditions, so when I think of "the holidays," I immediately think Halloween candy, Thanksgiving dinner, Christmas Day breakfast and New Year's Eve champagne toasts.  Drilling down to be more specific gets me to thinking about Halloween candy, homemade cranberry orange sauce for Thanksgiving, and pie for Christmas, particularly Bourbon Chocolate Pecan Pie.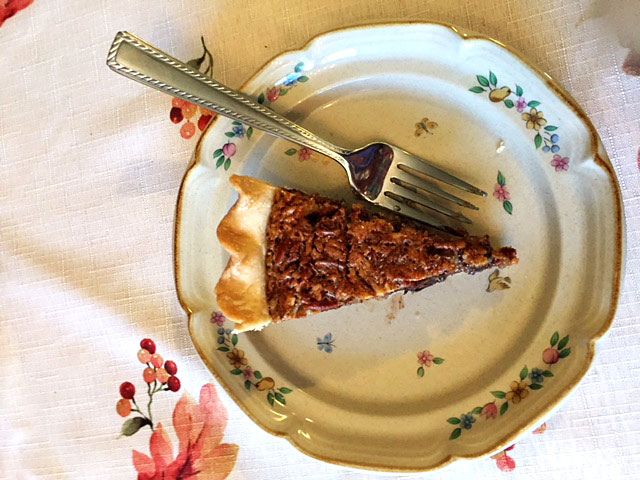 A perfect holiday dessert
Rich, but not too sweet

Pecan pie is a traditional favorite, but many avoid it, claiming it's too sweet.  There are ways to cut the sweetness and add an extra note of zing to the old standby.  Adding cranberries is one way, but there's an even better way.  How?  Try adding a little bourbon.  Even better, add a bit of dark chocolate and a little bourbon.
By adding dark chocolate and a splash of bourbon to pecan pie, you suddenly have something that won't hand out a sugar headache after a few bites.  You've elevated an old standby to something exciting with a divine flavor.  There's the buttery sweetness of the custard filling, followed by a healthy smidge of chocolate and finished off with a whisper of magic that tastes like comfort food of the best kind.  That's the bourbon speaking - not in a shout, but in a whisper.
Rich, yes, but not cloyingly sweet
Make no mistake, this pie is still rich, as rich as it gets.  But it doesn't smack you in the head with cloying sweetness.  The addition of those two extra ingredients blends the whole custardy goodness into a palate-pleasing taste sensation sure to earn you the title "She Who Will Bring Dessert From Now On."  (Or He.)
Bourbon Chocolate Pecan Pie looks like a typical pecan pie until it's cut and served.  The traditional golden custard is riddled with melted chocolate and topped with a thin layer of crunchy, toasted, chopped pecans.  Add a dollop of whipped cream (the real kind, not frozen whipped topping) and you have a dessert fit for royalty. 
Bourbon Chocolate Pecan Pie

3 eggs

¼ C plus 2 Tbs butter, melted
¾ C light corn syrup
½ C sugar
¼ C firmly packed brown sugar
2 Tbs bourbon
1 Tbs all-purpose flour
1 tsp vanilla extract
1 C chopped pecans (toasted – see Notes)
1 C semisweet chocolate morsels
1 unbaked 9-inch) pastry shell
Whipped cream for garnish (see Notes)
Beat eggs in a large mixing bowl until frothy.  Whisk in butter, blending well.  Add syrup, sugars, bourbon, flour and vanilla; beat well.  Stir in pecans.
Sprinkle chocolate morsels on the bottom of the pastry shell.  Pour pecan mixture over chocolate morsels.  Bake at 350 for 1 hour or until set (see Notes).  Cool before slicing.  Garnish with whipped cream.

Notes:
1.  Be sure and toast the pecans before using them.  Toasting brings out their best flavor while adding a nice crunch.  Spread them on a pan in a single layer, and bake them for 6 minutes in a 350 oven.  Let cool and chop.
2.  Do not do the knife test on this pie.  Instead, gently jiggle the pie when the time is up.  If the pie is loose and liquid in the center, leave it in the oven for 3 more minutes.  Then test it again.  The pie is ready when the center gently moves but doesn't look like loose liquid.  It will continue to cook after being brought out of the oven and will firm as it cools.
3.  Use real whipped cream, very lightly sweetened, for this pie.  Do not use frozen dessert topping – it's too sweet, and this pie is already very sweet.  The whipped cream adds just the right touch.
---
You might also like...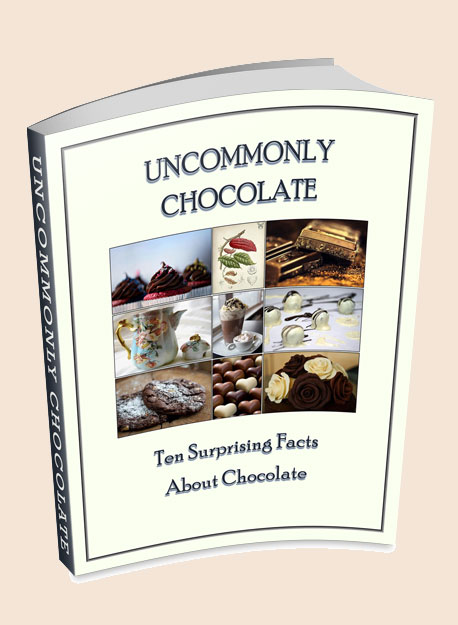 Need a little more chocolate in your life?


Sign up for monthly "Chocolate Chips" and receive this e-booklet FREE
"Ten Surprising Facts About Chocolate"



Sign up below and you'll receive a link where you can download your e-booklet immediately.



---