In "The Land of Enchantment"
Santa Fe chocolates reign supreme

Santa Fe, New Mexico…the name conjures up crisp mornings, cobalt skies and art galleries lining the streets of the historic district. But do you think "chocolate" when you think of Santa Fe?
You should.  Because Santa Fe chocolates will have you begging for more.

This part of The Land of Enchantment is home to Cacao Santa Fe, New Mexico's first (and Santa Fe's only) authentic NM Certified True Bean to Bar chocolate maker. With beans sourced from small farms and cooperatives, Cacao Santa Fe offers a variety of chocolate delights, including one of their specialties, chocolate elixirs.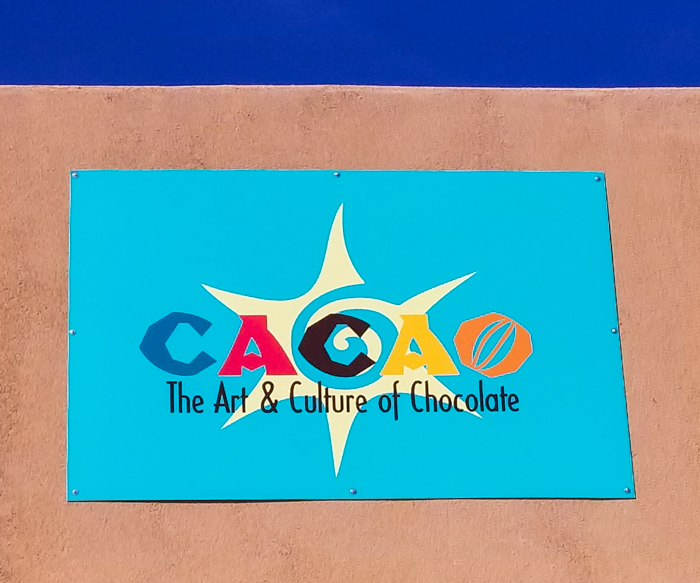 Yes, the sky really is that blue in Santa Fe.
Cacao Santa Fe
I'd never had an elixir until I visited with the proprietors at Cacao Santa Fe at the onsite espresso bar.  Co-owner Melanie Boudar gave us a tour of the cozy factory and explained that elixirs and drinking chocolates are beverages imbibed during the ancient Mesoamerican era to modern Colonial and European times.
These are thick chocolate libations mixed with the spices used at the time, one of which is chile. WOW.  We're not talking a hint of spice at the back of the throat.  We're talking about chile that grabs the drinker by the throat.  It's worth trying if only for the novelty of the spice. But don't be surprised if you ask for another one.  The Aztec emperor, Montezuma, was definitely on to something when he drank copious amounts of the dark stuff.
There are other elixirs on offer as well as chocolates, both in bars and filled truffles. The bars come in flavors such as Red Clay Sea Salt; Caramelized Pinon Nut, Coffee, Cacao Nib & Red Chile; and Prickly Pear, Lime, Hibiscus (my personal favorite).   And the truffles are miniature works of art, making it difficult to choose the dozen which I had allowed myself.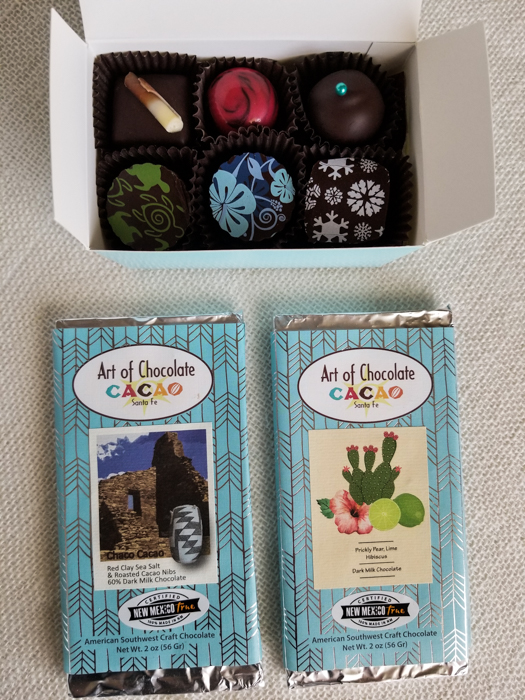 Bars and truffles, beautifully decorated. Even the wrappers are tiny works of art.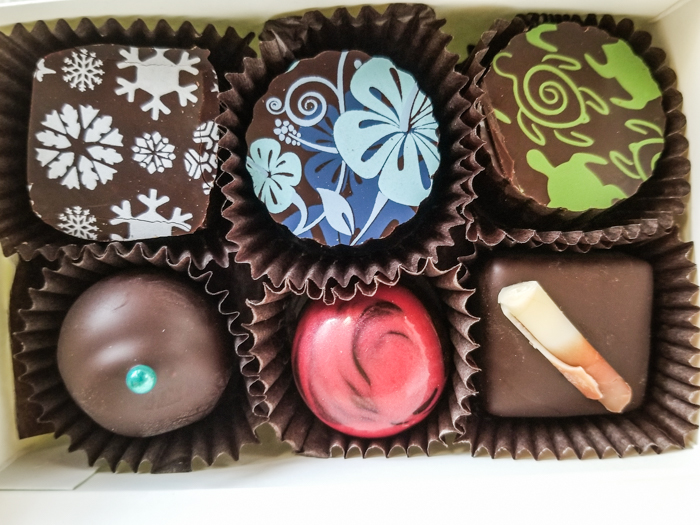 Little jewels in a pastel jewel box.
Melanie let us in on the secret to how they get the dazzling designs and patterns on the chocolates truffles.  Another of life's great mysteries solved. 
One more thing - Cacao Santa Fe also offers non-edible gifts, including Chocolate Body Cream, Cacao Pod earrings and, my personal favorite, Chocolate Soap, in flavors almost good enough to eat.  You can shop the entire collection here.
---
Kakawa Chocolate House
We left Cacao Santa Fe and headed to the downtown historic district for an afternoon of shopping and taking in the sights.  And then, almost by accident, there it was – an oasis of chocolate, ready to soothe these two weary souls.
I'm referring to Kakawa Chocolate House.
Kakawa (Olmec for, you guessed it, "chocolate") is located in a historic adobe home decorated on the outside with turquoise trim and a rich, magenta front door.  Step inside and be greeted with wood beams, wood floors, low ceilings and whitewashed walls to make the most of the light coming through the smallish windows.  Warm and inviting with leather seating, Kakawa welcomes visitors with the sounds of clinking glass and the rich fragrance of chocolate.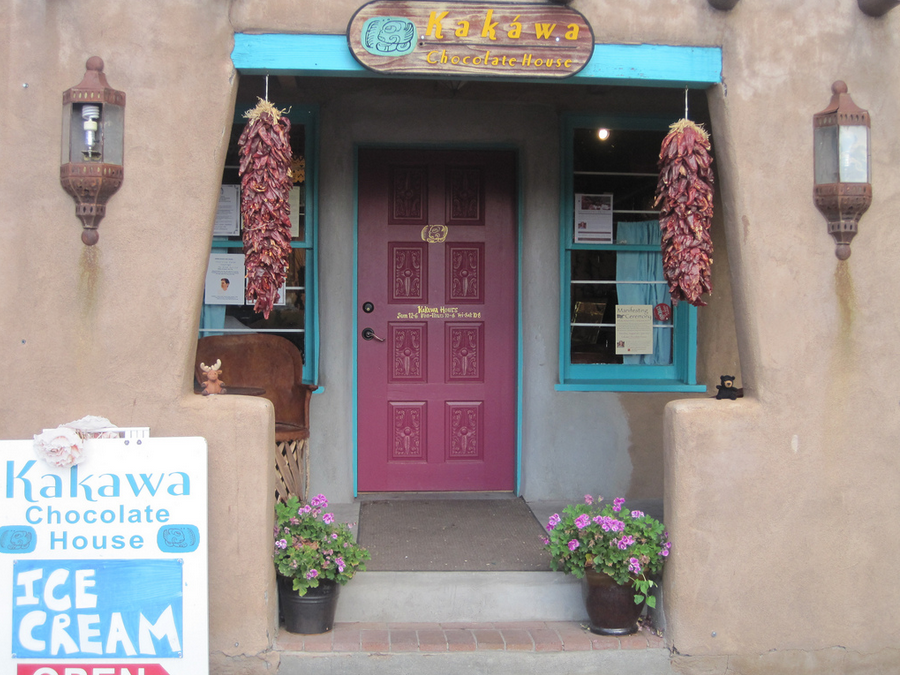 Chocolate delights await behind the colorful facade.
They offer an extensive line of fine chocolates, including truffles, caramels, and bars. But I was most intrigued by their elixirs.  Having just been introduced to this invigorating beverage, I felt like trying it again.  So, I had their version of chili elixir, which again was startling in its potency and heat, only here they topped it with whipped cream.  Because everything tastes better with whipped cream.
And then I had another. Hey, when in Santa Fe…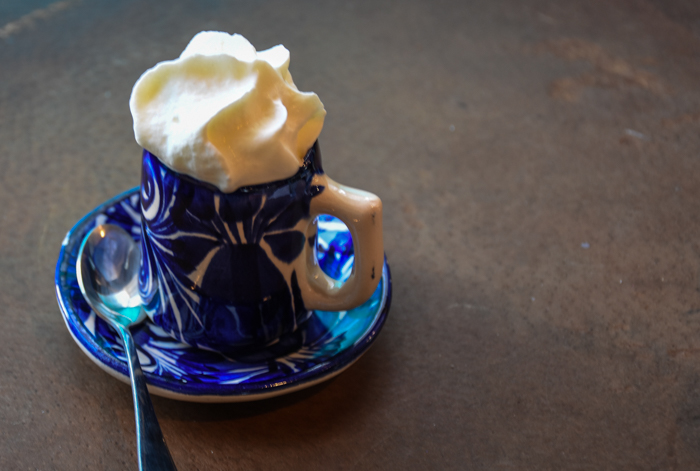 The tiny cup belies the chocolate explosion within.
My traveling companion had a scoop of organic ice cream.  And then we both tried something we'd never seen nor heard of before – the chocolate-dipped Chile D'arbols. These are whole, roasted New Mexico Arbol chiles dipped in Kakawa's own agave caramel and then dipped in their 80% house blend dark chocolate.
We asked, "Are these hot?" and the delightful young lady behind the counter said it was impossible to tell because the chiles vary in heat one from another. There's no way of knowing, so she cheerfully warns customers to eat at their own risk.
Not one to back down from a challenge, we tried one. Heat? Yes, definitely. But the combination of crunchy dried chile, sweet caramel and smooth dark chocolate was as addictive as a bag of potato chips, and far more interesting. Definitely a winner in our book.
View their extensive delicious offerings here.


A roasted, dried chile pepper dipped in agave caramel and then in milk chocolate. Divine!
We already can't wait to go back to Santa Fe. For its shopping, restaurants and beautiful scenery, yes. But equally as important, for it's chocolate. Because one enchantment deserves another. And another. And another…
---
You might also like...
... Chocolate Chip Cookie Experiment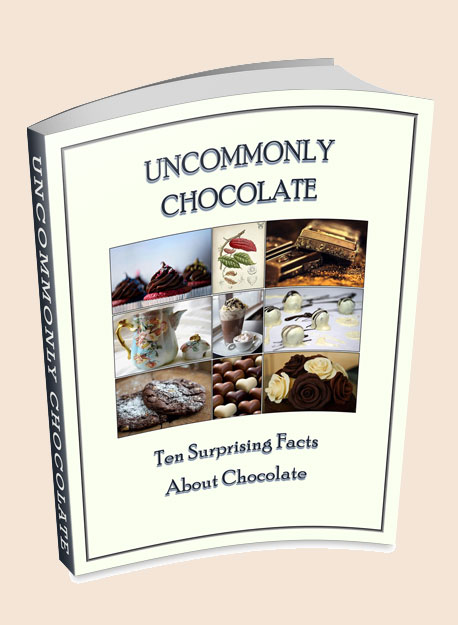 Need a little more chocolate in your life?


Sign up for monthly "Chocolate Chips" and receive this e-booklet FREE
"Ten Surprising Facts About Chocolate"



Sign up below and you'll receive a link where you can download your e-booklet immediately.



---