The perfect chocolate cake - hiding in plain sight
Chocolate cake.  Those two words conjure up memories of many birthdays past, of velvety cocoa flavor and rich, dark fudge icing.  Real fudge.  The cooked kind without so much as a grain of powdered sugar.  Not that I have anything against buttercream frosting, but sometimes you just want fudge on top of cake.
Still, even though chocolate was my birthday cake flavor of choice, I was on the constant lookout for what I deemed the perfect chocolate cake.  Because the one my mother made me as a child was too simple.  It was just a plain square on a plate, no layers, no different fillings, no fancy decorations.  Just Plain. Chocolate. Cake.  With fudge icing.
A forty-year search...
So, I set out on a quest when I left home to find the perfect version of this basic American dessert.  It would have many layers, various fillings and fudgy frosting.  And it would be garnished with swirls of frosting, and maybe some chocolate curls for a little added decadence.  It would be picture perfect, too, and something to inspire awestruck silence. 
Mostly I was looking for a perfect recipe, so I could have chocolate cake any time I wanted, though ordering it in restaurants was part of the search.
What I found over the course of many years was that, for the most part, commercial chocolate cakes are dry.  Restaurant cakes, bakery cakes, supermarket cakes…most, if not all, just didn't have the moisture content that I thought the perfect chocolate cake should have.  So finally, I quit ordering them.
On the other hand, the recipes I tried yielded, for the most part, nice cakes.  Nice, but without that something extra that made me swoon with delight. I'd have a piece and enjoy it, and then I'd send the rest to work with my husband.  Or take it to share with my co-workers.    And the next time I'd want chocolate cake I'd try a different recipe.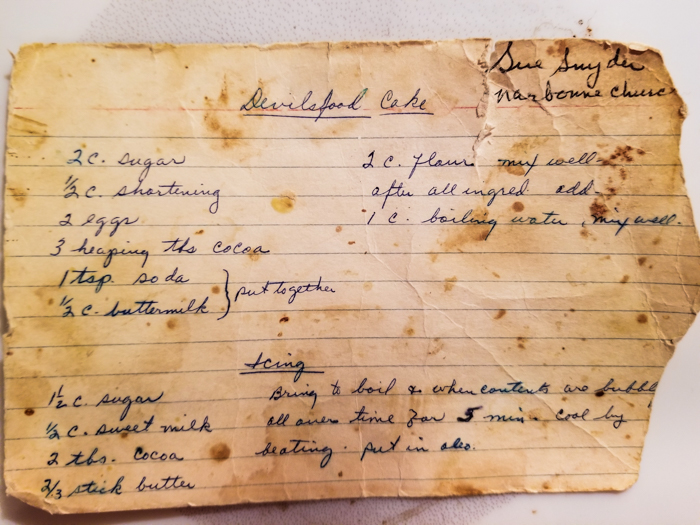 The original recipe card from my mother's recipe box.
I rarely had this problem with yellow cakes (my other favorite flavor), so yellow was the default flavor whenever I'd have to buy cake from someone else.  And that was the flavor that I made while my children were growing up.  (It's the cake my grown daughter requests every year for her birthday.)
And then, on my recent birthday, it dawned on me that I already HAD the perfect chocolate cake recipe.  And it was right under my nose all along.  I had long since stopped trying to find a flashy, brassy, over-the-top, in-your-face recipe and realized just this year that the cake my mother had been baking all my life really WAS the perfect chocolate cake.  A single layer of moist cake with the intoxicating flavor of cocoa (as opposed to the somewhat heavier flavor of melted chocolate) with a thin layer of cooked fudge on top.
It's so delicate I doubt it could support multiple layers, and it fails the resistance (can-I-eat-just-one-piece?) test nicely.  Meaning, no I can't eat just one piece.  Because one piece leaves me wanting another.  And another.  But since I try to be ladylike, I settle for two pieces.  And call them dinner.
This recipe goes together very quickly, which is perfect if you want cake RIGHT NOW.  I've reworked it a bit to accommodate new bakers who might not understand what "put in oleo" means.  Or who might want a bit more clarity to "when bubbly all over."
And while this is traditionally a one-bowl cake, I've added the step of sifting the dry ingredients together so that there is little to no chance of finding nasty lumps of baking soda in the chocolaty goodness.
My perfect chocolate cake
Cake
Preheat oven to 350.
2 C sugar
½ C shortening (I use butter flavored)
2 eggs
1 tsp. vanilla

3 heaping Tbs cocoa (do not level)
1 tsp. baking soda
1/2 tsp. salt

2 C flour
½ C. buttermilk
1 C boiling water
Sift flour, baking soda, salt and cocoa together in bowl – set aside.  Cream sugar and shortening until fluffy with a hand mixer.  Add eggs, one at a time, beating only until smooth.  Stir in vanilla.  Add milk and flour mixture alternately, ending with flour mixture.  Add boiling water.  Pour batter into greased and floured 9x13 pan.  (See notes)
Bake 30-35 minutes or until toothpick inserted in cake comes out barely clean.  If there's a crumb of cake on it, that's ok.  It's ready.
Set on cooling rack while you make the icing.
Icing
1 ½ C sugar
Pinch of salt

2 Tbs. cocoa (do not level)
½ C milk
2/3 stick butter, cut in pieces (5 1/3 Tbs. to be precise)
1 tsp. vanilla

Whisk sugar, salt and cocoa in saucepan until fully blended.  Whisk in milk then place over heat and bring to a full boil on stovetop.   When mixture has come to a rolling boil, stop stirring and let boil for exactly 5 minutes, or until candy thermometer reads 235-240 degrees.  (Soft ball stage)
Immediately remove from heat, drop in butter pieces, and stir until smooth, then place in ice water bath, stirring vigorously until icing barely begins to lose its gloss.  Drop some from the spoon onto itself and it will stay on the surface for a moment or two.  Immediately spread onto hot cake.
Notes:
When making chocolate cake, I use cocoa instead of white flour when preparing the pan.  It looks nicer when the cake is cut.
Do not overbeat or icing will get too thick to spread.  This takes a little practice, but it's better to spread the icing too soon rather than too late.

My mother left salt and vanilla out of her copy of the recipe, but both enhance the unique cocoa flavor, so I've added them back in.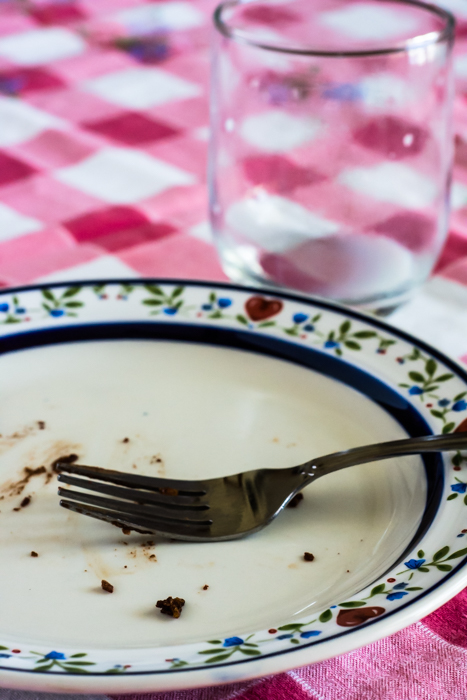 All's well with the world after a piece of this cake.
While my mother called this a Devil's Food Cake, I simply know it as The Perfect Chocolate Cake.  I hope you will too.  It's moist and keeps well for several days (if it lasts that long).

P.S. If you're the type who likes a little cake with your icing, then double the recipe of icing.  I do when I want to go all out and treat myself to something extra indulgent.
---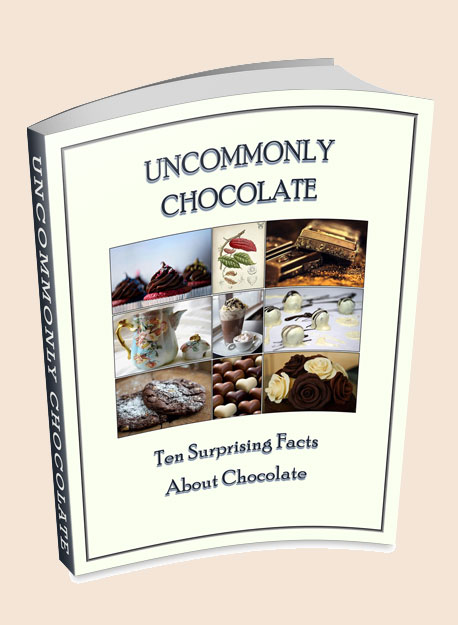 Need a little more chocolate in your life?


Sign up for monthly "Chocolate Chips" and receive this e-booklet FREE
"Ten Surprising Facts About Chocolate"



Sign up below and you'll receive a link where you can download your e-booklet immediately.



---