McKinney, Texas
One of North Texas' best-kept secrets
McKinney, Texas, is a rapidly growing city north of the Dallas/Ft. Worth Metroplex, yet it hides one of the most charming historic districts in the state. Located 53 miles north of DFW, McKinney welcomes visitors with an eclectic mix of shopping, restaurants and live entertainment ranging from casual to elegant.
And there is plenty of chocolate to be had as well.

Chocolate extravagance starts with Goodies, Texas.  Goodies offers dozens of hand-molded chocolates and creamy fudges behind sparkling glass-fronted candy counters.  The chocolates on the top row look like sparkling jewels, each carrying a different delicious filling. Further down the line are decadent chocolate pecan clusters, toffees, caramels, barks and molded chocolates, all made on the premises by members of the Lanio family.
The shop also carries toys, Texas-themed clothing and custom gift baskets, and they even stock and develop 35mm film.
Visitors should also stop by Patina Green, a shop which combines food and home décor in a warm, welcoming atmosphere.  Vintage home accessories fill the store with timeless appeal, yet modern pieces are sprinkled throughout.  The shop offers a seasonal lunch menu, farm fresh produce and house-made packaged foods to go.  Their chocolates are handmade, as are the Artisan Caramels, Chef Robert's Jam and Chef Robert's Pickles.   Some of their culinary delights may be ordered online, but it's worth going to their store in person to experience the full gamut of tasty offerings.
Check out their calendar – along with Second Saturday Bob's Tacos and monthly Market Dinners, Patina Green invites various artists and artisans to share their wares with customers.
Just one caramel is not enough
There's plenty of good eating in McKinney...

McKinney offers a multitude of restaurants and pubs ranging from casual to elegant.  For those with pie on their mind, Emporium Pies includes a French Silk Chocolate Pie with a Pretzel Crust and a Peppermint Cream Pie with a Chocolate Cookie Crust. 
Landon Winery is an award-winning winery in downtown McKinney where visitors can sit and enjoy the wines and light appetizers.  They feature live music on weekends as well as various wine-related events throughout the year.  Don't miss the American-made, full-bodied port, Chocolate Finale.  It's lightly sweet and the perfect finish to an evening of good food and good company.
Enthusiasts of fine dining will enjoy a meal at Rick's Chophouse, but save room for dessert – there are many on the menu.  Chocolate lovers will have a hard time choosing between the Chocolate Tart garnished with Mint Whipped Cream, Texas Pecan Pie topped with Whisky Chocolate Sauce and Vanilla Ice Cream or the Texas Brownie & Blondie Sundae for 2.  This is a brown and blonde brownie topped with dark chocolate ice cream, cream cheese dark chocolate mousse and hot fudge. What a finale.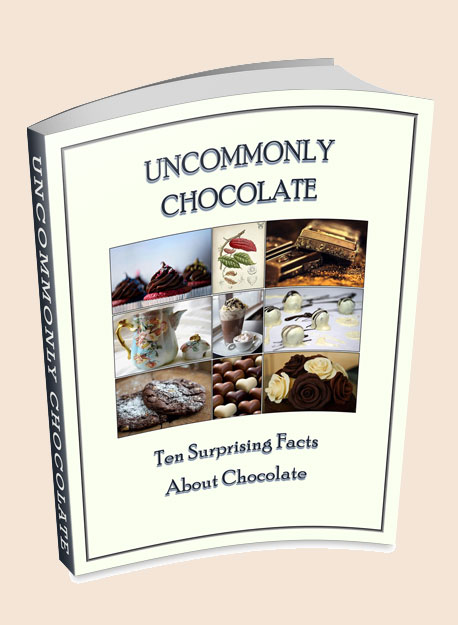 Need a little more chocolate in your life?


Sign up for monthly "Chocolate Chips" and receive this e-booklet FREE
"Ten Surprising Facts About Chocolate"



Sign up below and you'll receive a link where you can download your e-booklet immediately.



---