Light-as-Air Coffee Chiffon Pie in a Chocolate Cereal Crumb Crust

Have you ever tasted a coffee cloud?  I hadn't either until I had a taste of this coffee chiffon pie.  The filling is almost weightless in the mouth yet has a wonderful coffee flavor that seems to melt almost instantly on the tongue. 
The whipped cream topping, far from adding weight to the filling, instead adds to the fluffiness, while the crunchy chocolate cereal crust adds a delightful contrast in texture. 
Put together, a slice of this pie will leave you wanting another piece.  Right NOW.  (Like I did.  I couldn't help myself).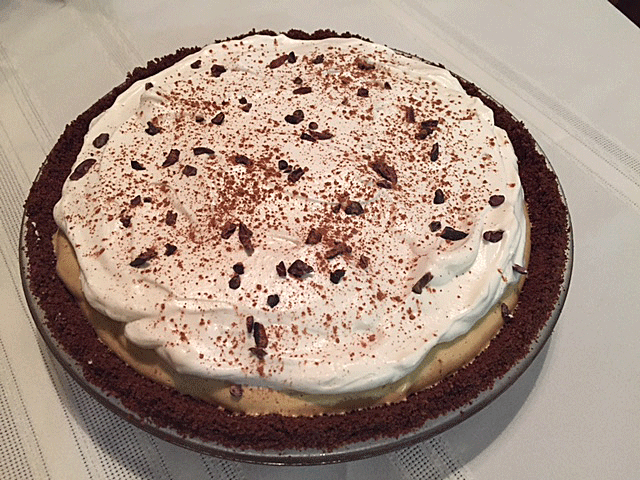 Light as air Coffee Chiffon Pie w/Chocolate Cereal Crumb Crust
COFFEE CHIFFON PIE
1 Tbs. instant coffee

½ C boiling water

 

1 env. unflavored gelatin




¼ C cold water




3 eggs, separated

 

½ C sugar

 

1 tsp. vanilla




¼ tsp. salt

 


½ C sugar

 
Chocolate Cereal Pie Crust 

1 C heavy whipping cream (the real kind, not frozen whipped topping)

¼ C powdered sugar

Cocoa for garnish

Grated chocolate or cocoa nibs for garnish
Dissolve coffee in boiling water; soften gelatin in cold water.

Combine egg yolks and sugar in top of double boiler; mix well w/a hand mixer until light and thick.  Slowly add coffee mixture, stirring well. 

Bring water to a simmer and cook egg mixture, stirring contstantly, until mixture coats a metal spoon.

Add softened gelatin and vanilla.  Chill until mixture begins to thicken to the consistency of raw egg whites.

Beat egg whites until foamy; gradually add sugar, beating until stiff peaks form.

Fold egg whites in 3 batches into chilled gelatin mixture. 

Pile filling into crumb crust.  Chill, preferably for about an hour.


Beat whipping cream until soft peaks form.  Gradually add powdered sugar and continue beating until stiff.  Spread over pie and chill until firm, at least 3 hours, or overnight.

Garnish with cocoa and grated chocolate (or cocoa nibs).
  CHOCOLATE CEREAL PIE CRUST
 

6 cups Cocoa Puffs

1⁄2 cup butter, melted
1⁄4 cup sugar (or less if you like a less sweet pie crust)
Roll or

grind

the breakfast cereal.  There should be 1 ½ cups after crushing.

Co

mbine with the melted butter and sugar.

An easy way to form the crust is after mixing to press another pie pan of the same diameter firmly into the dough. When the top

pan is removed a crust of even thickness is underneath.

Trim any excess that is forced to the top edge.

Crumb crusts need not be baked before filling, but if used unbaked, must be first chilled thoroughly or the filling will immediately disintegrate the crust.

If baked before filling (my preference for a crisper crust), they require a 350 degree oven for about 10 minutes. It is best to cool the empty baked shell before filling.
Notes:
I use a food processor to grind the cereal – it's so much faster and "cleaner."

Do NOT substitute frozen whipped topping for the whipped cream.  It will make the pie too sweet, and it will mask the light-as-air delicate flavor of the coffee filling.

Do not feel guilty if you want a second piece right after the first.  A pie this light can't have THAT many calories, can it? 
You might also like...
...Chocolate Cheesecake with Oreo Crust
...Lindt Excellence - three top flavors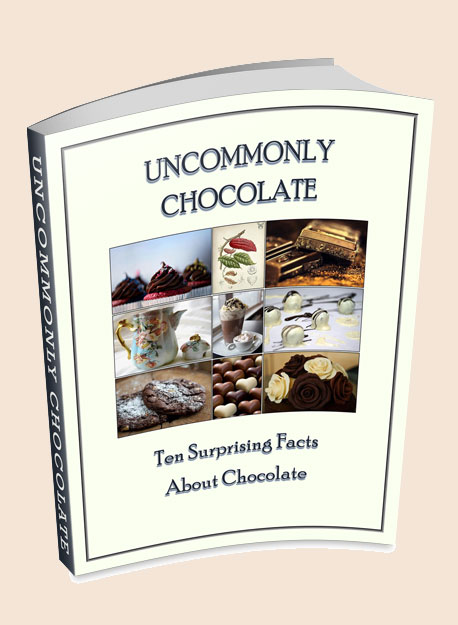 Need a little more chocolate in your life?


Sign up for monthly "Chocolate Chips" and receive this e-booklet FREE
"Ten Surprising Facts About Chocolate"



Sign up below and you'll receive a link where you can download your e-booklet immediately.



---