Dandelion Chocolate

I had the pleasure of meeting and interviewing Greg D'Alesandre of Dandelion Chocolate at the Dallas Chocolate Festival 2017.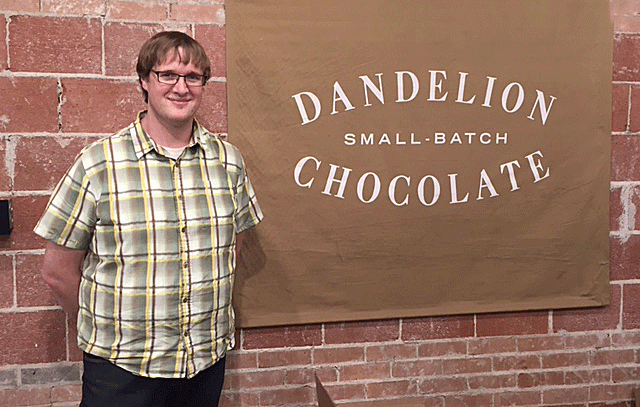 Greg D'Alesandre - Chocolate Sourcerer
Greg, who has had a lifelong love affair with chocolate, worked in the technology industry for many years.  Along the way, he met Cameron Ring and Todd Masonis, co-founders of Dandelion Chocolate.  They decided to work together, and Greg took on the role of Chocolate Sourcerer (that's right, their Sourcerer).  He's the guy who travels the world over sourcing the highest quality beans available.
Because the trio loves the flavor of the beans themselves, they don't do infusion bars or inclusion bars and instead let the beans speak for themselves.   The beans are sourced from many different countries which are showcased on the wrappers, so you know exactly where your chocolate comes from with each bar. 
Check out the lower left of each label - the person in charge of the flavor profile is named. Thanks, Molly and Bret!
A side note about the wrappers: they are GORGEOUS.  The papers are handmade in India especially for Dandelion Chocolate and are so decadent they feel almost like fabric.  What's more, they wrap each bar in a different pattern – a delightful touch.  These papers made this former paper artist swoon.
Back to Dandelion Chocolate…
I asked Greg what sets Dandelion Chocolate apart from the others.  As he puts it, "Everyone has a different palate and thing they enjoy, so we have a style which is very sort of flavor-forward, bean-forward.  Our chocolates tend to have very light roasts which, to some people, leaves a little too much of that flavor of the bean in, but other people really love that sort of expression of the bean.  And so I wouldn't say what we do is unique, I think a lot of people make awesome chocolate, but I think what's great about the craft chocolate industry is everyone sort of has their own take on it and their own angle on the flavors.  There's something for everyone." 
Nicely said, Greg.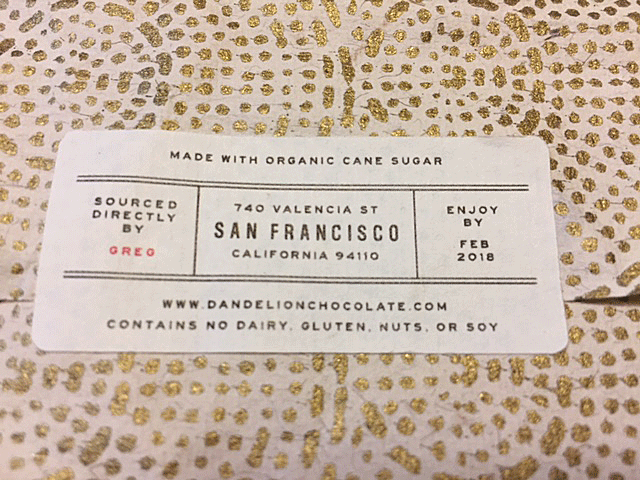 Back label, plus a closeup of the paper.
One last point of interest: each bar shows the name of the person who designs the roast profile of the chocolate (on the front of the bar) and also the name of the person who sourced the beans (that would be Greg) on the back.  They strive to be as transparent as possible about every aspect of production. 
I don't know about you, but that's pretty unique in its own right.  (Thank you, Molly and Bret, for the roast profiles of the two bars I bought.  They were divine.)
I bought two bars from Greg:
Ambanja, Madagascar – 70% - 2016 Harvest
(Forgive the "crumbs" of chocolate on the bar - that was my fault.  These bars come pristine in their wrappers, like the one on the left.)

If chocolate were music, the fragrance of this one would be a high note, maybe a high alto or a low soprano.  You know something different is coming your way just by closing your eyes and breathing in the fragrance of this chocolate before tasting it.
One doesn't usually put "tart" in the same sentence with "chocolate," but this little number is full of surprises.  The beans, from Madasgar as the package name states, are somewhat on the acid side of the flavor spectrum, and they are roasted in such a way as to capitalize on this quality. 
Once the chocolate has melted on the tongue with its rich chocolate flavor, the tartness makes a sudden appearance, both bold and subtle at the same time.  (The only way to understand that contradiction is to try it yourself – it's quite amazing.)  While this is going on, the flavor notes are making their appearance.  People taste chocolates differently from each other, but the berry notes in this one are unmistakable, as is the slight peach flavor.
These notes are not because of additives - Dandelion Chocolate only uses organic cacao beans and organic cane sugar.  The flavor notes in these chocolates are a result of the roasting process, as well as the natural flavors of the beans themselves.  And they combine, with unerring skill, to create a delightful tart chocolate that will keep you going back for "just one more bite."
Kokoa Kamili, Tanzania – 70% - 2014 Harvest
On the musical scale, this chocolate would be a low tenor – deeper, richer, more robust…or as I like to say, "rounder."   There are no tart corners on this chocolate – this one is r.o.u.n.d.
Also made with organic cocoa beans and organic cane sugar, this chocolate is a bit sweeter (though not too sweet, thanks to the high cocoa content) and has a full-bodied profile with wonderful notes of mango and berries.  There is an extra little pleasant aftertaste, and the label on the package says "rich, brownie batter finish."  Works for me.  I couldn't quite define it myself as I am deep in the learning process, but who can argue with a "brownie batter finish?" 
More please.
Dandelion Chocolates are available in stores from sea to shining sea in the U.S. as well as Canada, France, Japan, South Korea, Netherlands and the U.K.  They are also available online (here).
Visit Dandelion Chocolate on their website, and if you're in San Francisco, by all means visit them at their shop.  They offer tours of their factory, and they serve chocolate and coffee drinks, plus a full line of pastries in their cafe (here).  See you soon, Greg.
You might also like...
... Chocolate for Health and Beauty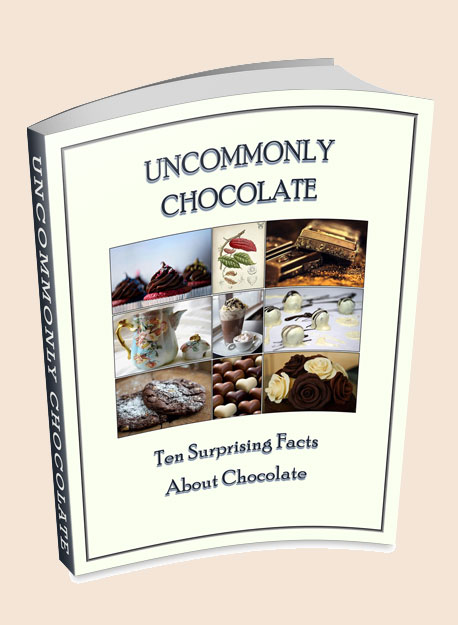 Need a little more chocolate in your life?


Sign up for monthly "Chocolate Chips" and receive this e-booklet FREE
"Ten Surprising Facts About Chocolate"



Sign up below and you'll receive a link where you can download your e-booklet immediately.



---