Chocolate Chip Cookie Experiment

Welcome to Uncommonly Chocolate's first cookie experiment.

It's said that using chopped chocolate bars makes a better chocolate chip cookie than chocolate chips.  The logic used is that chocolate chips are made with stabilizers, usually soy lecithin, which helps the chips hold their shape when baked.  But then it's said that the chips will solidify back into morsels with a waxy, gritty texture whereas the chocolate bar won't.
So I decided to put these claims to the test.

I used two kinds of chocolate chips – Nestle Toll House, and Ghirardelli – as well as a bar of Lindt Excellence 70% Cocoa chopped into morsel-sized pieces.
All are delicious, but not all make great chocolate chip cookies
Unfortunately, I checked the label only after purchasing the Lindt bar and discovered that it, too, contains soy lecithin.  So I decided to conduct this cookie experiment to see if the cookies with the chopped bar chocolate tasted better than the cookies with the chocolate chips.  
The results were vivid and surprising.  But first let me tell you a little about soy lecithin…
Lecithin - friend, or foe?

Lecithin is a generic term designating a variety of naturally-occurring fatty compounds found in animal and plant tissues.  It is regularly extracted from soybeans, sunflower seeds, milk, marine sources, liver, peanuts and/or cottonseed.  Soy lecithin is the most common type of lecithin and is derived from soybean oil manufacturing.
Soy lecithin is used as an emulsifier in creamy foods.  Emulsifiers make oil and water mix together, which normally they wouldn't do.  That's why you see soy lecithin in foods like salad dressings, mayonnaise and other foods that have a large portion of oil. 
Soy lecithin is also used in chocolate which, in liquid form, is an emulsion.  The lecithin keeps the cocoa butter (fat) mixed with the moisture, cocoa solids and dairy (in milk chocolate) that makes up the rest of the candy.   Without lecithin, chocolate would be less velvety smooth.  It would also be more prone to fat bloom, that ugly whitish coating on chocolate that happens when the cocoa butter separates from the rest of the ingredients in the chocolate bar.  This is why chocolates exposed to higher-than-normal heat, and then cooled, turn grayish on the surface.  (It's still safe to eat, it's just ugly.)
Bottom line – lecithin is an important ingredient in chocolate chips.   Why?  This is the subject of the experiment.
Chocolate chips vs chopped chocolate bar

I wanted to see how baking with a chopped, premium dark chocolate bar might be different from baking with regular chocolate chips.  I also wanted to see if premium chocolate chips tasted different than regular chocolate chips.
As mentioned before, I used Nestle Toll House chocolate chips and Ghirardelli Premium baking chips.  I also used Lindt Excellence 70% Cocoa dark chocolate bar, chopped. 
I divided my standard chocolate chip recipe into thirds, stirring 1/3 of each chocolate into each portion of cookie batter.  The results were surprising.
I had expected similar results from all three chocolates since they all contained soy lecithin; however, this was not the case.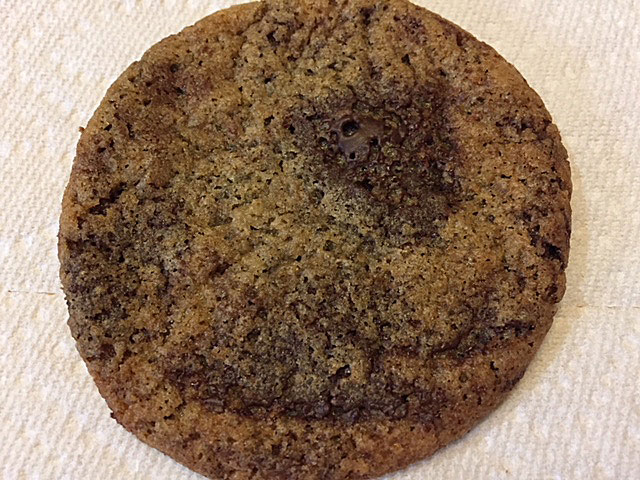 Cookie using chopped premium chocolate bar - not very appetizing.
The cookies made with the chopped chocolate turned out flat with the chocolate completely melted.   And oddly, the texture seemed a little coarser, too. 
This looks much better (and tasted better, too!)
The cookies made with the chocolate chips kept their characteristic lumpy shapes with the chips well defined.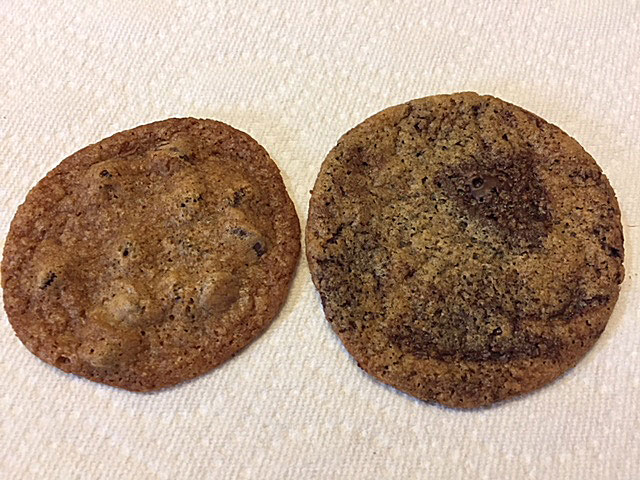 The difference is unmistakable, both in appearance and taste
Clearly, baking with a chopped (and more expensive) chocolate bar did not yield better results.  And the taste was no different from the cookies made with the chips either.  In fact, it was easier to taste the chocolate in the "chip" cookies than it was in the "chopped" cookies.  And the chip cookies were more attractive, too.
One more thing – the premium (more expensive) chips tasted the same as the regular chips.   But neither was "gritty or waxy" upon cooling. 
Cookie experiment conclusion
In conclusion, chocolate chips work just fine, both for taste as well as for texture. 
I do have some chocolate bars on hand that do not contain lecithin of any kind; however, they also cost $8 per bar.  It would take 3 of them to make a single recipe of chocolate chip cookies.
In future, I'll keep bar chocolate for eating and chocolate chips for cookies.

---
You might also like...
...Lindt Excellence - three top flavors
...Chocolate Cheesecake with Oreo Crust
---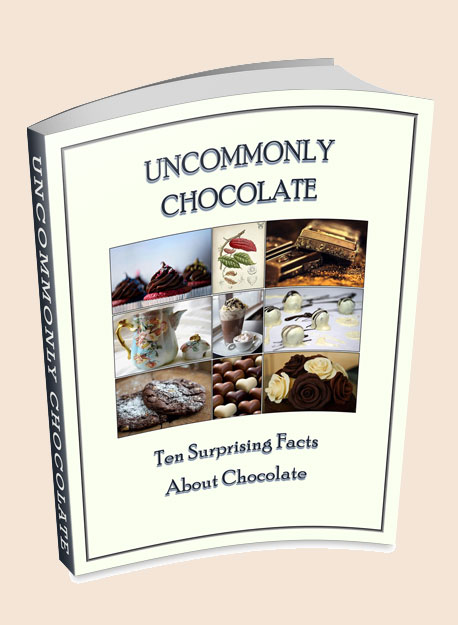 Need a little more chocolate in your life?


Sign up for monthly "Chocolate Chips" and receive this e-booklet FREE
"Ten Surprising Facts About Chocolate"



Sign up below and you'll receive a link where you can download your e-booklet immediately.



---