Chocolate Zucchini Bread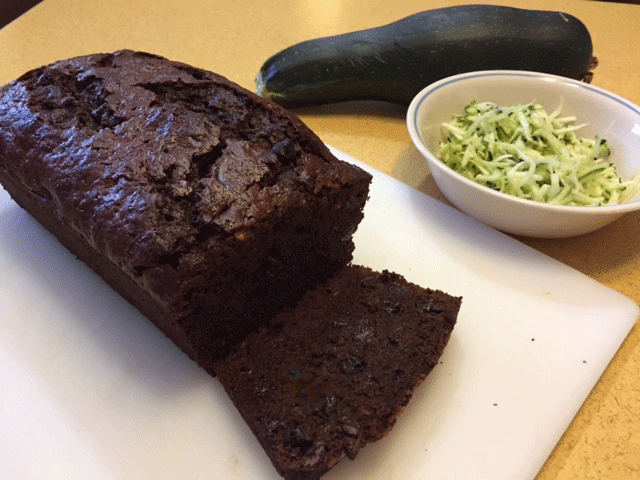 A healthy snack...
A quick bread, by nature, is a bread made with baking powder and/or baking soda, not yeast.  There is no rising to wait for, which is why they're so quick! 
Quick breads come in many forms and encompass everything from pancakes to biscuits, scones to sticky buns, and muffins to loaves. 
This page and recipe are for a loaf bread.
Quick (loaf) breads are wonderful to have on hand for many reasons:
As a quick snack, spread with soft cream cheese;

As a light breakfast with eggs and fruit;

As a sandwich with a filling of chicken or turkey salad;

As a small dessert topped with fruit and whipped cream;

As a larger dessert topped with ice cream and fudge sauce.
And the list goes on.
Did you let your quick bread get stale?  Then slice it up, dip it in a milk and egg mixture and pan fry it as French toast…
… or cut it into cubes and turn it into bread pudding…
… or break it up into fine bits, toast it a bit and use it as "sprinkles" on ice cream or pudding. 
There is absolutely no reason to let a quick loaf bread go to waste.
This recipe is for a chocolate loaf bread using zucchini as its unusual ingredient.  Zucchini adds incredible moistness to any cake, and it's almost completely "invisible" once it's baked. 
Shhh…don't tell your kids.  They'll never guess they're eating a vegetable!
Zucchini pairs well with chocolate as it has virtually no flavor of its own and bows out to let the dominant flavor shine through. 
In other words, zucchini plays well with others.
This bread is light and delicate, yet at the same time it has enough body to hold its own when cut, unlike some quick breads which can crumble a bit.  I served it at a party and it disappeared like magic.
___________________________________

Chocolate Zucchini Bread
2 large eggs

1/3 cup honey

1/2 cup vegetable oil

1/2 cup brown sugar

1 teaspoon vanilla extract

1 teaspoon salt

1/2 teaspoon baking soda

1/2 teaspoon baking powder

1/2 teaspoon espresso powder (optional)

1/3 cup cocoa, either regular or Dutch-process cocoa

1 2/3 cups all purpose flour

2 cups shredded, unpeeled zucchini, gently pressed

1 cup chocolate chips
Directions
Preheat the oven to 350°F; lightly grease an 8 1/2" x 4 1/2" loaf pan.
In a large mixing bowl, beat the eggs, honey, oil, sugar, and vanilla until smooth.
Add the salt, baking soda, baking powder, espresso powder, cocoa, and flour, mixing until well combined.
Stir in the zucchini and chocolate chips.
Pour the batter into the prepared pan.
Bake the bread for 65 to 75 minutes, until the loaf tests done (a toothpick or cake tester inserted into the center will come out clean, save for perhaps a light smear of chocolate from the melted chips).
Remove the bread from the oven, and let it cool for 10 to 15 minutes before turning it out of the pan onto a rack.
Cool completely before slicing; store well-wrapped, at room temperature.
Yield: one 8 1/2" x 4 1/2" loaf.
Note:  If you want, you can also add ½ cup toasted walnuts to the bread.  I didn't this time, though I probably will next time.
Be sure to toast the nuts.  It brings out the flavor and adds a nice crunch to the texture of the bread.

---
You might also like...
...Chocolate For Health & Beauty
---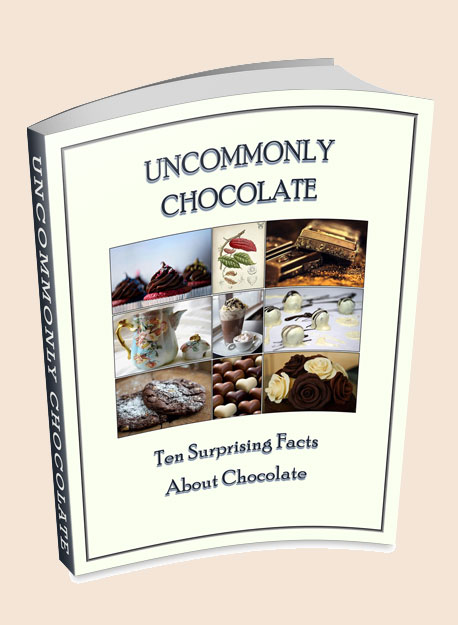 Need a little more chocolate in your life?


Sign up for monthly "Chocolate Chips" and receive this e-booklet FREE
"Ten Surprising Facts About Chocolate"



Sign up below and you'll receive a link where you can download your e-booklet immediately.



---