Toffee Treats Melt in Your Mouth with Freshly-Made Goodness

Toffee…the word alone conjures up the scents and tastes of the winter holidays.  The buttery, chocolaty goodness satisfies even the most persnickety sweet tooth while the appearance satisfies those who want "pretty" on their candy plates.  However, many toffees tend to stick to one's teeth, or are too thick and hard, or are too sweet.  So Christmas tends to be when toffee makes its grandest appearance.
But then there are Toffee Treats, which take toffee to a whole different level.  This is the first toffee I've ever had that snapped when bitten into with absolutely no resistance.  The buttery flavor burst onto the tongue while the warm sweetness of chocolate scampered right behind.  The delicious bites dissolved at a proper pace - not too slowly, not too quickly, but just right, and were finished off with the slight crunch of nuts.  Blissful, buttery, chocolaty delight.
Stolen toffees...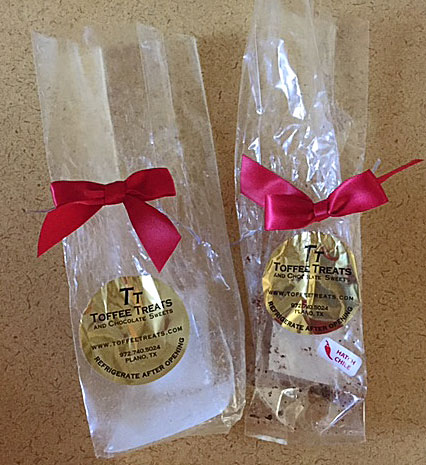 It's a mystery how it happened...
I don't know what happened, these bags were full when they arrived home from the Dallas Chocolate Festival a few weeks ago. 

I could show a company picture of the yummy treats in their respective containers, but honesty is the best policy…
Toffee Treats and Chocolate Sweets are the creation of Mary Louise (ML) Dubay, who learned the craft of making toffee from her grandmother during the holidays.  The secret recipe yielded batch after batch of golden toffee covered with rich chocolate and sprinkled with nuts (pecans or almonds, depending on availability).  But let's hear it from ML herself…
From high tech to sweet success

"My grandmother taught me how to make toffee when I was a little girl.  I was in the high tech world my entire career and I always made my toffee during the holidays for my friends."  They said, 'This is so good, you should sell it,' and I'd say, 'Nooo, I'm good, no…I'm ok,' but they kept saying it.  So after 20+ years in the high tech world, I thought, 'You know what, I'm going to just give it a shot and see what happens.'  And here we are, 7 years later, and I never dreamed that we'd be doing this."
I asked her if it was more fun than high tech, and she replied, "It is. I'll tell you it's just a totally different world.  You know the corporate environment (which I really enjoyed) was great, but when it's your own business, you don't waste anything…you want everything to be the exact same because people taste it, and ... the next time they try it, enjoy it and buy it, you want it to be the same."
ML sources all of her ingredients locally except for the chocolate, which comes from Albert Uster, a specialty food importer.  This explains why the white chocolate is not as sweet as typical white chocolates.  Combined with the cranberries and pecans, the white chocolate toffee has just the right balance of sweet with tart, topped off with the slight crunch of the nuts.
These were phenomenal. Or so I've heard...
The other toffee I tried was the Hatch Chile Dark Chocolate Almond.  I almost don't know how to describe this toffee, it was that good.  The toffee, as described above, was delicate and addictive, but the chocolate announced its presence with the addition of the hatch chile, which played perfectly with the chocolate's smooth richness while making my taste buds sit up and take notice. 
This is not a shy chocolate, but it's not a bully either.  It's assertive and friendly, and I'm craving more even as I type this.
The genius behind Toffee Treats

You can find ML Dubay and her Toffee Treats and Chocolate Sweets here, and you can order here.  She offers more than toffee, so please go say hi and try her goodies for yourself.
As for the empty bags…well, I'm taking the 5th.
You might also like...
...Chocolate in Jefferson, Texas
...Chocolate for Health & Beauty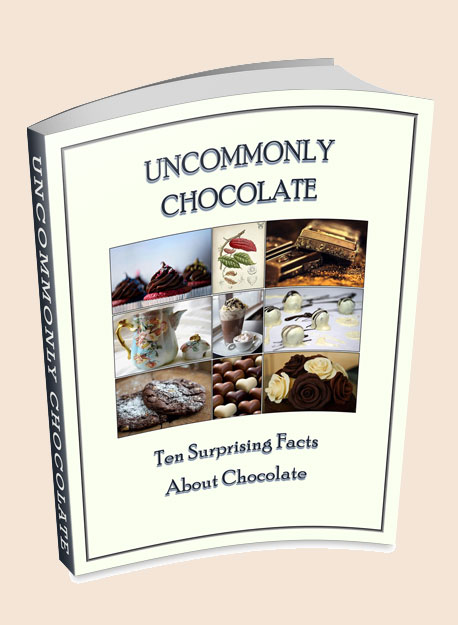 Need a little more chocolate in your life?


Sign up for monthly "Chocolate Chips" and receive this e-booklet FREE
"Ten Surprising Facts About Chocolate"



Sign up below and you'll receive a link where you can download your e-booklet immediately.



---