Sweet Potato Chocolate Pie

Pie…the word conjures up memories of grandma's kitchen, warm and fragrant, the heart of the household.  A tender, flaky crust full of homemade goodness…pie is the favorite dessert of many. 
Sweet potatoes…this word also conjures up memories of grandma's kitchen, particularly at Thanksgiving.  We're all familiar with the cloying sweetness of canned sweet potatoes baked with marshmallows on top, but did you know just how versatile sweet potatoes really are?   And how healthy?
Sweet potatoes are rich in complex carbohydrates, fiber and beta-carotene as well as other vitamins and minerals.  They can be roasted, fried, baked, and mashed and they serve as major ingredients in many dishes. 
Including pie.  This pie.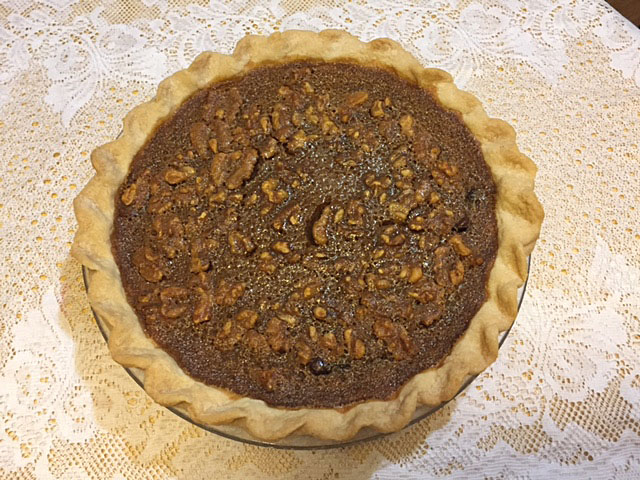 With sweet potatoes and walnuts in it, this qualifies as health food, doesn't it?
Sweet Potato Chocolate pie has a wonderful silky smooth filling of mashed sweet potatoes which rests on a fudgy chocolate base.  The crunch of toasted walnuts tops the pie.  Served with whipped cream (the real kind, not "whipped topping"), you have a dessert fit for royalty.
This pie falls under the category of custard pies. 
Preheat oven to 350.
3 eggs
3/4 C dark corn syrup
3/4 C brown sugar
¼ tsp salt
1 Tbs dark rum
3/4 C cooked, mashed sweet potato (see Notes)
½ Tbs vanilla extract (not imitation)
¼ C butter, melted
3/4 C chocolate chips
1 ½ C walnuts, toasted and chopped (see Notes)
1 unbaked 9" pie crust
Whipped cream (for serving – not "whipped topping")
Combine first 4 ingredients and beat until smooth.
Mix in rum, sweet potato, and vanilla.
Slowly add melted butter to mixture, and blend until smooth.
Sprinkle chocolate chips and pecans onto pie crust bottoms.
Bake 35 to 45 minutes, until "softly firm" in the middle and golden brown. (see Notes)
Serve at room temperature with dollop of whipped cream.
Notes:
Do not use canned sweet potatoes for this recipe.  The pie will be too sweet and sticky.  Instead, bake a sweet potato in the microwave oven until tender (pierce the skin, wrap it in a paper towel, bake for 3 minutes on one side, turn over, bake 3 minutes on the other side). Cut in half, scrape the flesh out with a spoon, and mash it.  Easy!

Toasting the walnuts gives them more flavor and their signature crunch.  Toast in a 325 oven for 6 minutes (I use a toaster oven).

"Softly firm" means the center moves slightly, but not in a loose, liquid manner.  Custard pies should always have a little "soft jiggle" in the middle when they come out of the oven because they continue to cook for the first few minutes.  Leaving them in the oven too long (until firm and hard in the middle) will cause them to be grainy.

Use real whipped cream.  Whipped topping will mask the delicate flavor of the sweet potatoes.

Speaking of which, this pie almost tastes like pumpkin pie without the spices.  You may substitute canned pumpkin if you wish, but even if you normally dislike sweet potatoes, this pie will surprise you with it's non-sweet-potato taste.  It's just plain DELICIOUS.
You might also like...
...Chocolate in Jefferson, Texas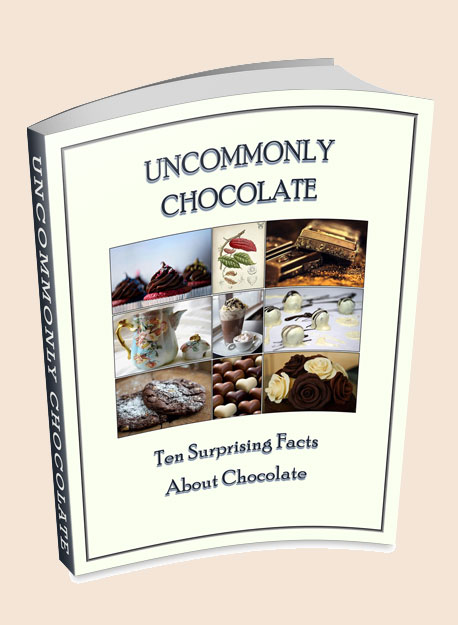 Need a little more chocolate in your life?


Sign up for monthly "Chocolate Chips" and receive this e-booklet FREE
"Ten Surprising Facts About Chocolate"



Sign up below and you'll receive a link where you can download your e-booklet immediately.



---